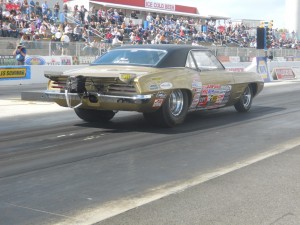 Doug Jones sent in a few shots of his recently completed and now painted 1969 Pontiac Firebird.   The images are from the NHRA Divisional event in Spokane, showing Doug's Firebird making a number of runs.  Doug raced the car at both the Spokane and Woodburn NHRA Division Six Divisional Events, he plans on running the car in Super Street at the Seattle National Event next week.
There is a complete build album with over 250 images available in the Projects Gallery.  The photos show many details as Ron built the car.  To go to the photos, click here.
The best of luck this coming week Doug.