Every car enthusiast begins a project with certain expectations whether it be a competitive race car, a canyon carving G-Machine, or just a cool award winning Street Rod. For Scott Schrieber his dream began when he found a 70 Chevelle that the owner had lost interest in and had neither the time nor money to complete. The car had sat in the previous owner's garage for more then 7 years with a pile of parts that had been collected during that time.
For Scott and his girlfriend Jeanette their purchase of the Chevelle meant the realization of a long time dream for Scott and a fun and learning experience for both of them.  Jeanette's expertise with the camera and internet savvy was proven early as she began to chronicle the construction of the Chevelle almost immediately on her own blog: http://1970chevellebuildout.blogspot.com/
The first thing to do was to take an inventory of the existing parts and then choose someone to do the fabrication to turn the Chevelle into a capable street/strip car for "Pro Street competition" at the local area dragstrips. After much consideration, they chose us at Ron Piercy Enterprises. Initial coversations turned into a "plan" that would take the Chevelle from "a body and a pile of parts" to an award winning and competitive Pro Street automobile.
There are lots of steps in making Scott and Jeanette's dreams come true. The purpose of this series of articles is to chronicle the basic steps involved. This is Chapter One-A Dream Realized.
Our story begins with the delivery of the Chevelle and its "pile of parts" to Ron Pircey Enterprises shop in Milton, WA.
The rear flooring was removed to take measurements to determine the "rear frame width" of the new 2X3 rear subframe.
Next the new rear frame rails and ladder bar rear suspension were mocked up to match the dimensions we determined in the previous step. The pieces were "tack welded" and the dimensions double checked. Ron's capable assistant "Wendi the Cat" assumed the role of supervisor….LOL.
With everything in place final welding of the rear subframe and suspension mounts could be completed.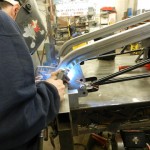 Chapter Two-A Dream Realized will chronicle the installation of the new rear subframe and suspension in the Chevelle.