Joe Finley (Kent, WA.) had dreams of a "corner burning. Canyon carving" 67 Mustang, but knew the stock Mustang suspension wouldn't be up to the task. After a little research and some guidance by Ron Pircey at Ron Pircey Enterprises the picture became much more in focus…
Ron chose Art Morrison Enterprises to once again build a custom built rear sub-frame featuring the Morrison Triangulated 4-Bar Rear Suspension in conjunction with Strange Engineering Coilover Shocks. The installation will include the accompanying "tin work" and wheel tubs..
Stage One of the project required the removal of the stock leaf spring rear suspension and housing.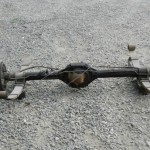 Next the stock steel trunk floor and wheel wells came out.
The next step is to install the new Morrison Triangulated 4-Bar Rear Clip Assembly.
Stage Two will show the "Installation of the Rear Suspension Components".
Stay Tuned…