Imagine if you owned a car for almost 30 years, all the changes, and the memories along the way… For Dan Davis his little Red Nova's story began shortly after he purchased the car from his friend Ted Gord in the late 80's.
When he purchased the car, Dan found out quickly how clean the car was, the near perfect interior and bright shiny red paint quickly led to Dan, deciding that he would try showing the car at a few area "car shows" and driving it somewhat regularly on the street as the weather would allow…
Not long thereafter, Dan was bitten by the "drag racing bug". Dan's son Daniel was about 4 years old when this part story begins and once the racing bug hit Daniel was constantly bugging his dad to go to the races… By the time Danial turned 8 he was the "crew chief" helping his dad whenever possible and learning a lot along the way…
The duo won the Bremerton Raceway Track Championship during those early racing years…
Eventually the Nova was retired so Dan could focus on family and his used car business- HD Autos.
When Dan decided to return to racing he purchased and raced several other cars and fielding them competitively while the Nova sat idle in in the "showroom" at HD Auto's for almost 10 years. Finally, the decision was made to make the little red Nova into a competitive bracket car, capable of eventually running in the high 8 or low 9 second range…
Dan chose Ron Pircey to transform the Nova using some of the best parts money can buy. Chris Alston Chassisworks unique Nova Front Clip and rear suspension was chosen to handle the job.
Here are some photos of the Nova when it arrived at Ron Pircey Enterprises:
Notice the stock floor, Roll Bar and 9" Ford Rear End, which were installed by Lyle Winters in the Nova's early racing days…
The project begins in earnest with removal of the stock rear floor sheetmetal, new 2X3 Frame Rails, subframe connectors and additional floor bracing were then installed.
The Chassisworks 4-link, Coilovers and narrowed 9" Housing were next along with custom battery mounts: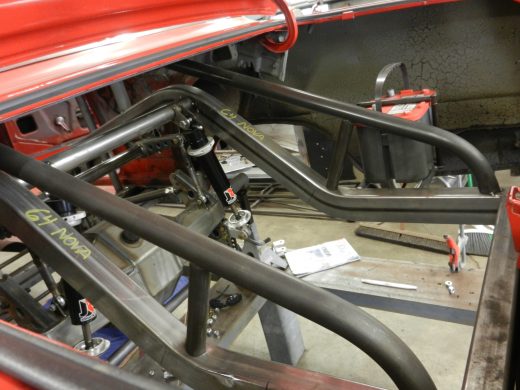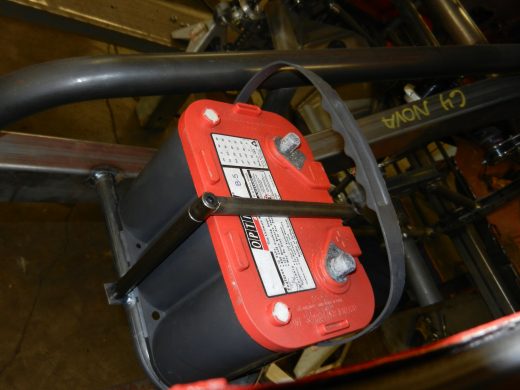 Here are a couple of profile shots to show how low the car sits and the size of rear tire that will be used….
The Chassisworks Nova Front Clip is setup to use A-Arm Front Suspension and Rack and Pinion Steering:
The old Roll Bar was replaced by a full 10 Point Roll Cage for added structural support and safety.
A custom Rear Wing was also constructed to complete the project: