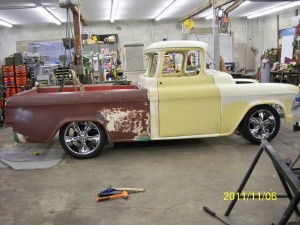 To the typical "hot rod enthusiast" there is probably no such thing as a perfect marriage. Ty Zumach may beg to differ. You don't see 57 Chevy Cameo Trucks every day that's for sure! And when you marry the rare Cameo to "a state of the art" custom designed Art Morrison Truck Chassis it has all the makings of a hot rodders perfect marriage.
Ron had lengthy conversations with Ty about his "final vision" of what he wanted the truck to look like when completed. Important decisions included:
What wheels and tires do you want to use?
Choices for Brakes and Suspension Type?
What drive train do you want to accommodate?
What is the final stance of the truck going to be? (In other words, what is the final ride height of the truck going to be with everything mounted?)
Sure there are probably a million other things to decide appon like fuel tank or cell and location, type of steering column, etc. but the above list outlines the basic choices to be made chassis-wise.
The first two pictures show the stock chassis and straight six cylinder engine as delivered to our shop.
The next three photos show the cab of the Cameo being lowered onto the new Morrison Truck Chassis along with a photo of one of the custom fabricated body mounts.
The third photo sequence shows the final stance of the truck with the front sheet metal and truck bed mounted
More Side Views of Body Mounted  –
The final two photos show the beautiful fit of the Morrison Chassis and its relationship to the bed floor.
Overall this was a fun project and I cant wait to see the finished product with paint and interior completed.
We'll keep ya posted!