Quite possibly the hottest segment of the "Automotive Performance Aftermarket" is Pro Touring and autocross….
Enthusiasts across the country flock to events like "The Goodguys" Autocross Series, OPTIMA Face Off and The Motor State Challenge.
Cars built for these types of events must have nimble handling, excellent braking and pack enough punch; power wise to accelerate through the "course" properly.
The 69 Firebird Convertible featured here is a no expense spared kind of project. Which means only the best components were selected to provide the performance required.
When the "mystery" (yet unnamed) owner commissioned his agent to find a suitable company to handle the fabrication and assembly needed, the agent eventually selected Ron at Ron Pircey Enterprises to not only select the parts but do the fabrication and assembly.
Parts selection began with the basic chassis components. Because the plan for this car was to include both street driving and completion at selected events, none of the stock front or rear suspension systems were retained. In their place completely new boxed tube front and rear subframes were chosen from Art Morrison Enterprises. Morrison's chassis and components are widely regarded as some of the best in the industry. And they manufacture front and rear subframe kits specifically designed for the early Camaro and Firebird.
This is how the "bird" looked before we began: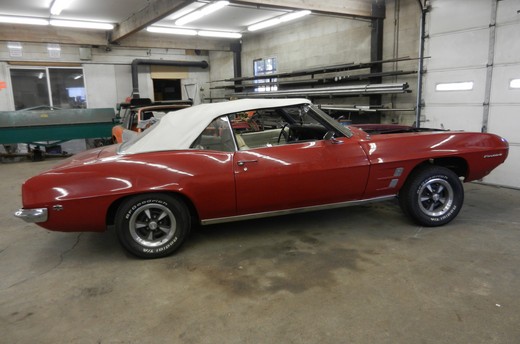 (Click Thumbnails For Larger Images)
Disassembly included the removal of the front body sheetmetal, and front and rear suspension:
(Click Thumbnails For Larger Images)
The cars main body was then mounted on a rotisserie so that the stamped sheetmetal rear subframe could be trimmed to fit the contour of the 2X4 box tube MorrrisonF-Body Rear Clip: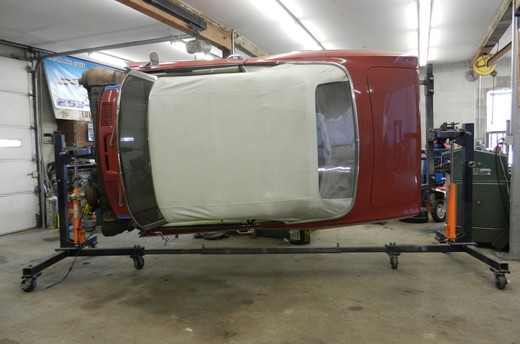 (Click Thumbnails For Larger Images)
The next sequence of photos shows the Morrison F-Body Rear Clip installed for test fitting. Notice the much larger wheel and tire combination and the tight fit of the new subframe.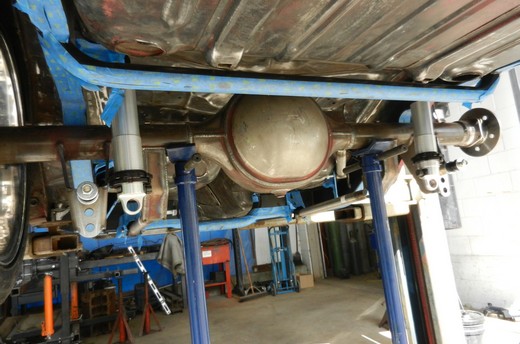 (Click Thumbnails For Larger Images)
Special 2X4 Box Tube Subframe Connectors will connect the Morrison F-Body Front and Rear Clips: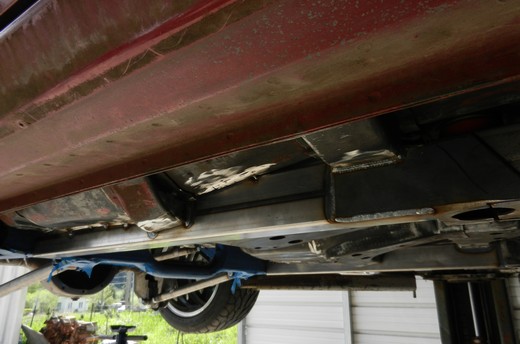 (Click Thumbnails For Larger Images)
Here are some photos of the Morrison F-Body Front Clip installed: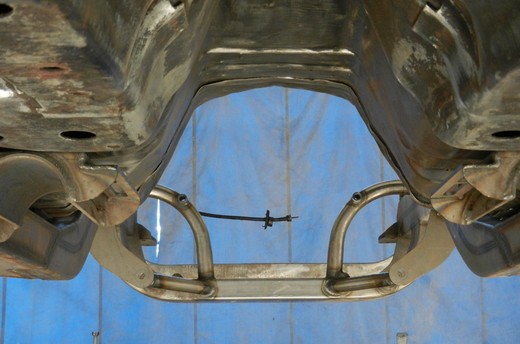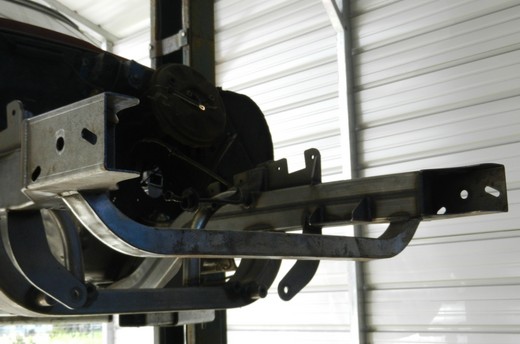 Once all the trial fitting was completed, the front and rear subframes and components were removed so that the entire underside of the body could be coated with "rubberized truckbed liner" like material.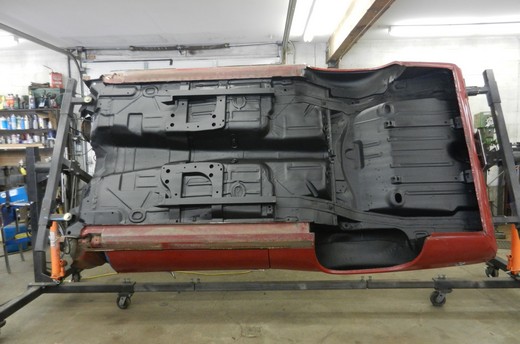 (Click Thumbnails For Larger Images)
Now reassembly could begin in earnest with both subfames and all the related suspension components. Here are photos of the front subframe: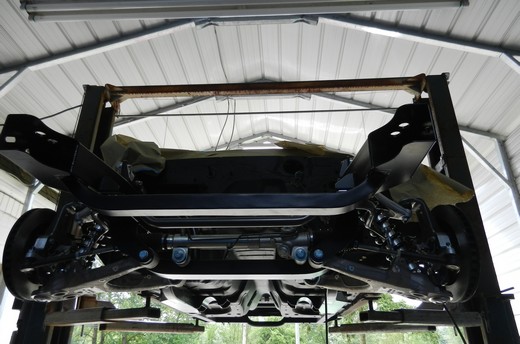 (Click Thumbnails For Larger Images)
And photos of the Subframe Connectors: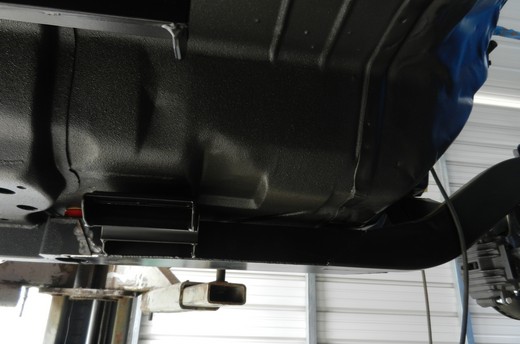 And new fuel tank, fuel lines high volume filter and pump were also installed.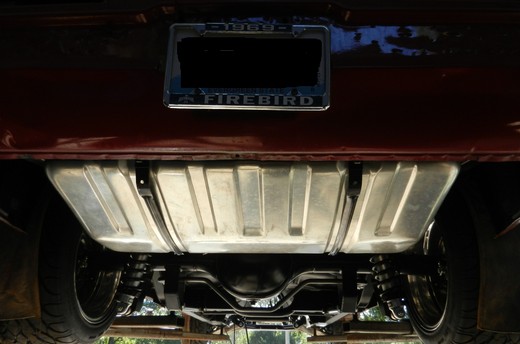 Back on its wheels again new Brake Lines, Vacuum Booster and Master Cylinder were added.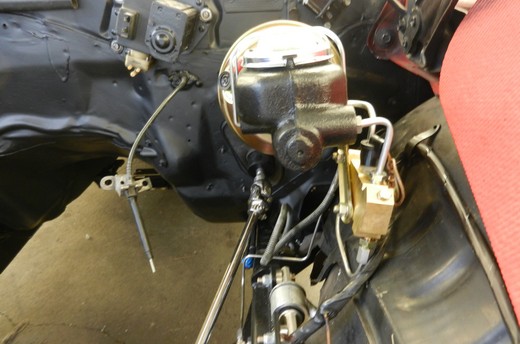 Here is a few good shots of the car from a few different angles with the new wheels and tires.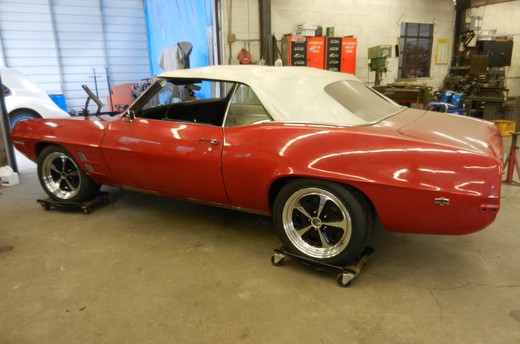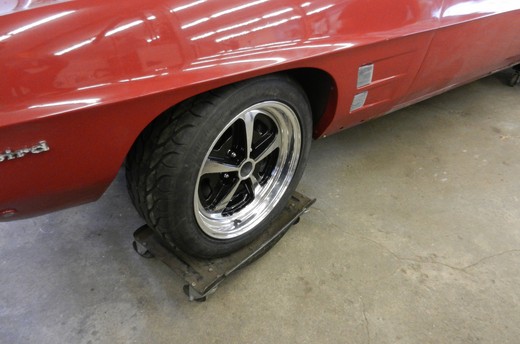 With all the final touches complete here are shots of the "bird" just before delivery to the "mystery owner"